Ardingly Choral Society celebrated its Centenary in 2017, drawing its members from Haywards Heath and the surrounding villages. It has a dynamic and friendly membership of approximately 75 and performs great choral works throughout the year. Formerly Ardingly College Choral Society, the choir still rehearses and performs primarily in the outstanding facilities of Ardingly College.

Regrettably, our Messiah concert has had to be cancelled due to the escalating impact of the Coronavirus and Government advice concerning the situation. We intend this to be a postponement to some future date rather than being cancelled altogether, but obviously it will be a case of 'watch this space'.

Many thanks to all our loyal audience members for your continued support of the choir.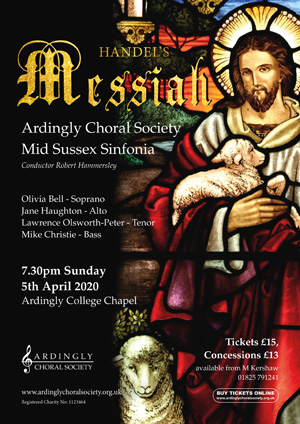 Singing is good for you! If you would like to join our friendly non-auditioned choir and sing superb music in a relaxed atmosphere, you will be assured of a warm welcome. The Choral Society rehearses every Thursday evening during term time from 7.30-9.00pm in the Recital Room of the Music Department, Ardingly College, RH17 6SQ

Rehearsals currently suspended until further notice.