Robert has had a long and distinguished musical career and he is well known for combining excellence of performance with the sheer enjoyment of making music.
Robert first conducted as Senior Chorister in Kings College Cambridge in the boys' services in 1955. This interest was carried on at the Guildhall School of Music where he received a special commendation for conducting. As conductor of the Guildford Singers (winners of the BBC's "Let the People Sing" competition) he founded the professional Guildford Chamber Orchestra. In 1972 he was appointed Musical Director of the Schola Cantorum of Oxford, the country's leading mixed voice student choir at that time, working with Sir Neville Marriner, Sir Michael Tippett and Sir Roger Norrington. He conducted the London Mozart Players and in 1972 he conducted the English Chamber Orchestra with the Schola Cantorum in a highly praised broadcast of Monteverdi's Vespers.
On becoming Senior Lecturer in Music at D.I.H.E. (now Bournemouth University) in 1974 he was appointed conductor of the Arts Centre Orchestra. He also founded Opera South with members of the Bournemouth Sinfonietta, performing Peter Grimes, Cosi Fan Tutti and Magic Flute.
Since then he has concentrated on working with children in schools. He was Community Musician to Wantage Schools 1983-87, encouraging children and adults to work together in choirs, shows and in the community symphony orchestra. He was appointed conductor of the Holst Chamber Choir and Orchestra in 1993.
As Director of Music at Lord William's School, Thame, he involved children with adults in performances of Verdi's Requiem, Carmina Burana, Mozart's Requiem, and Bach's B Minor Mass (performed in 1996 in Keble College Chapel). This ability to draw young people to perform with adult choral societies continued with considerable success at Ardingly College, where he was Director of Music for 11 years. Now that he has retired he is more able to work in the community, promoting choral singing by both children and adults. It is the stimulation of music-making within the community that he finds most rewarding.
Singer
Apart from his conducting, Robert has had a distinguished singing career. After his choristership at Kings Cambridge (Once in Royal David's City - soloist in 1955) he became a senior choral scholar at Magdalen College Oxford in 1972-73 and has made a number of recordings as a tenor soloist, notably in Guildford Cathedral's Carols for Christmas (awarded a Platinum Disc in 1975) and for the Monteverdi Choir (BBC 1973).
Composer
Robert has composed a number of choral and orchestral pieces, including "Fragile Earth", a choral work premiered in Dorchester Abbey in October 2011. Its theme shows how mankind is inspired by the wonders of the Earth and concern for the future of its fragile environment. Recently he completed 'Peace and Children', a 40 part motet and a 4-part piece called Take them, Earth, for Cherishing.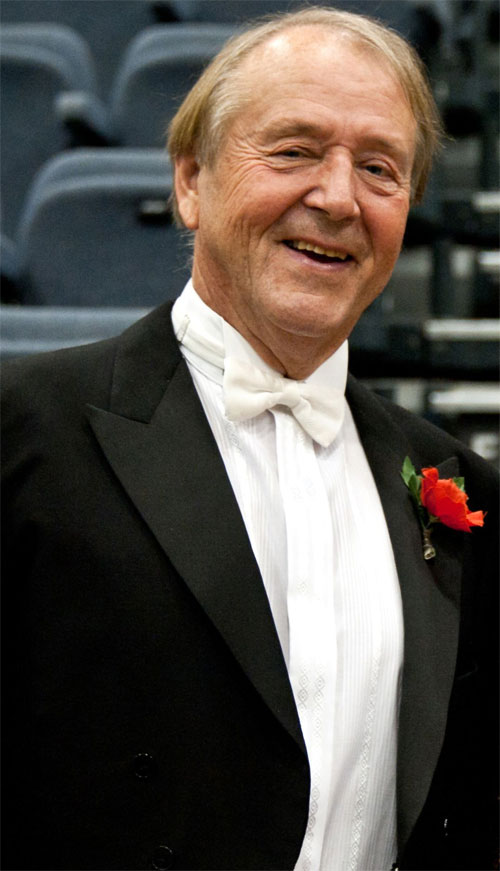 Photo By: M. Walmsley